PartsBadger Serves the Aerospace Industry
Prototyping and production runs are available in a number of materials best suited for aerospace technology. Material Certification, Certificate of Conformance and First Article Inspection are available options on all orders. 
PartsBadger Production is ISO 9001:2015 and AS9100D Certified, providing the highest level of quality standard expected from the aerospace industry. Compliance with the industry standards is a key component to success.
Aerospace is a high technology industry that requires high tolerances and on-spec machined parts. PartsBadger is committed to providing quality assurance through investment in our quality control department and our quality certifications. We manufacture parts for aircraft, missiles, rockets, and spacecraft. Check out our capabilities and material pages to learn more of our offerings.
We believe ordering custom parts ought to be simple, fast, and straightforward. When we designed and created our Instant Quote system, we began with the goal of making prices available right away. We know that getting a price on your part without having to wait allows you to move faster, which means your ideas move forward. Let PartsBadger become a part of your supply chain as Your Online CNC Machine Shop.
Rapid Quote
Enter your material, finish, tolerance, quantity, and upload your file to get your own custom quote in 2-6 hours. The Rapid Quote is perfect for higher volumes or special features.
Precision, Quality and Affordability at any volume
Our Modern CNC machines can handle small radius cuts and maintain a high quality level whether you want one piece or one hundred. Chamfered edges, multi radius curves, and tapped holes are a few things that make machining a part more workable for any projects. We take pride in making quality, custom, low cost, machined parts.
No limitations on materials here
Check our full list of materials available at PartsBadger. With no restrictions on materials, our Online Machining Service has you covered no matter what you need us to machine. There are also no limitations on quantity, we feel high quality, machined parts should be affordable when ordering 1 or 5,000.
Types of Machining
PartsBadger offers a number of different machining methods to create your parts.  Using a wide variety of machines PartsBadger is able to create simple and complex parts at the required tolerance and the best possible price.
3-Axis milling on a vertical milling machine allows for 2.5D and 3D machining of most parts.  Using X, Y, and Z movement 3-axis milling is used for the majority of machining projects.  Milling on a 3 Axis machine requires each work face to be machined independently.  For each work face the part needs to be positioned and secured in a process called work-holding.
4 and 5-Axis milling allows for 3D machining with either a rotating part or a rotating mill.  Using X, Y, Z, A and possibly B axis 4 and 5 -axis milling is used for complex machining projects.  Milling on a 4-5 Axis machine rotates the part for complex contours and shapes.  Machining on a four axis machine typically increases machine time cost 50%, while a fifth axis machine would increase machine time costs upwards of 300%
Turning on a lathe allows for machining of cylindrical parts.  Using X, Y, and A movement lathes are used for nearly all cylindrical machining projects.  Turning on a lathe has limitations on the overall diameter of the stock being machined at 7 inches, but can turn parts up to 32 inches in length.
Wire EDM (Electical Discharge Machining) allows for high precision and near 90 degree corners using a small wire and high levels of electrical current to cut the material.
Small Hole EDM (Electical Discharge Machining) like Wire EDM allows for high precision and near 90 degree corners using a small wire and high levels of electrical current to cut the material.  However Small Hole EDM does not require the wire pass through the part allowing for pockets and cavities within the material rather than just cutting through-hole like Wire EDM.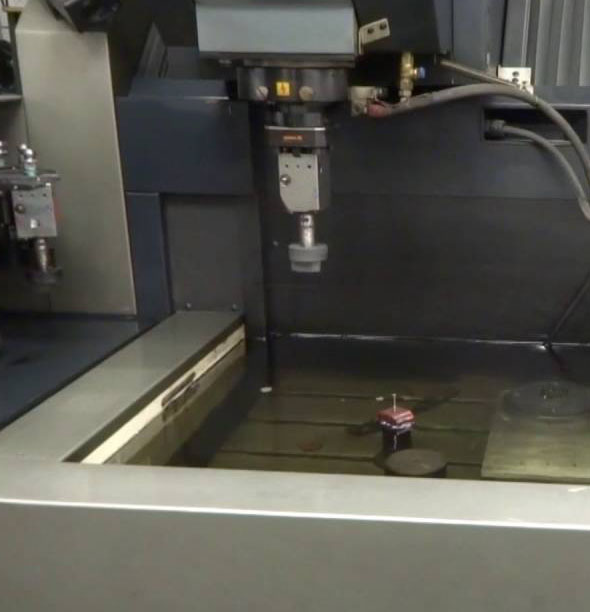 Sinker EDM is typically used for complex 3-D shaped parts, often with small or odd shaped angles. The process provides a finished part without stresses on the material. Sinker EDM has a wider variety of applications, such as blind cavities/key-ways, thin walls, or cross sections.
Accelerate Your Innovation
We're here to help you manufacture your machined parts efficiently and timely. We understand the importance of getting your product(s) to market before your competitors do. We provide quotes in hours and most parts in 14-Days or less. Use the form to reach our specialists to request a quote, check on an order status, or to learn more about us and our capabilities. We're ready to accelerate your innovation.